Unalloyed: The Yamuna Devi Legacy Project, is a non-profit corporation formed at the request of Dinatarini devi, for the purpose of preserving and perpetuating the significant legacy of Yamuna Devi.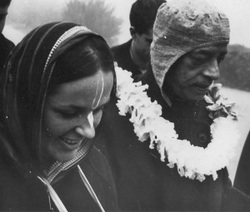 Yamuna Devi was one of the most influential devotees during ISKCON's fledgling years. She was among a handful of people who established ISKCON's first temples. Those who came to ISKCON in later years joined an established society, but Yamuna Devi was one of the few who established that society.

Yamuna Devi explained something of her relationship with Prabhupada while addressing the GBC in 2000, "In both men and women, Srila Prabhupada observed our propensities and expertly dovetailed them in his preaching mission. For many years, in different countries and circumstances, I had the good fortune to render personal service to him. He trained me, urged me to accept more and more responsibility, and regularly asked me to lead kirtanas, give classes, arrange programs, manage departments, provide comforts for visiting devotees, meet with leaders, and actively promulgate Krsna consciousness. In ISKCON India, where previously no women were allowed, he sent me to various temples to learn cooking and Deity worship, and he repeatedly asked me to train others in the same."

Yamuna Devi was well known for her own caring and compassionate nature. Though famous in ISKCON and beyond, she was kind and unpretentious. She was always singing or chanting Hare Krsna, and had focused attention on whatever service she was doing. Her cleanliness standards were immaculate and she dedicated herself to following Prabhupada's instructions in her actions, words, character, and heart. Whoever met her experienced through her both Prabhupada's uncompromising standards and his love.

She published her own cookbook entitled, "Lord Krishna's Cuisine: The Art of Indian Vegetarian Cooking" which garnered multiple awards, including the International Association of Culinary Professionals Cookbook of the Year.

---
What is the Project?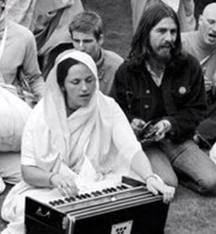 The initial component of this treasured project is the completion of Yamuna Devi's book which captures her memories, interactions, realizations and devotion to her beloved Spiritual Master, His Divine Grace Srila Prabhupada. More than just a book of ink and paper, the project combines an interactive multimedia website with the printed word. The Nuts and Bolts of this project includes recorded voices of Yamuna Devi, Dinatarini devi, Srila Prabhupada, and the many godbrothers, godsisters and friends who contributed a remembrance for the book on the website along with video clips and pictures. The book itself when finished will consist of between 400 to 500 pages with well over 200 pictures captured in a beautifully bound 9" x 7" frame.

---
The current monetary needs for the project are as follows

$500 is required to archive digital and original photographs
$6,000 for layout and design of the book,
$25,000 for the first printing
$2,000 is budgeted for additional misc. expenses

Tax Deductible Donation for US Residents